Catering
Catering on location or drinks/dinner/party in our beautifully renovated business.
We are happy to provide catering for both companies and private individuals. In addition to the well-known lunch boxes, we are happy to discuss the options with you, for example:
overtime meals
snacks
walking dinners
company parties
buffets
funeral catering
salads
finger food
high wine
dinners
crew catering
weddings
---
Call us on 070 385 82 61 or
Order: bestellingen@lunchroom-engelhard.nl
---
Lunchboxes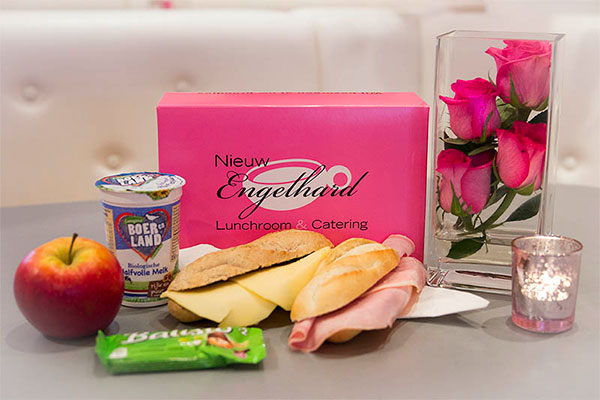 A lunch box for work or on location. We deliver this 7 days a week
A cup of milk, a carton of apple juice or a carton of OJ
2 catering sandwiches
1 Piece of fruit
1 Snack bar
€ 8,75
Add fresh OJ: € 9,95
You can choose from the following sandwiches: cheese, aged cheese, healthy, ham, fricandeau, chicken breast. For an additional cost of € 1.50 per sandwich you can choose from smoked Scottish salmon and carpaccio as well.